Howdy there everyone!
Today I am sharing some recycled jar and tin can candle crafts I made.
The candles are soy and I found this wonderful tutorial on
How to make soy candles if you are interested. I was going to sell them, and after I thought about it, I opted not to.
I have too much on my plate as it is. These do make for wonderful gifts though.
I am sharing here today what I have made. Some will be in mason jars
while others are recycled jars and cans to create a one of a kind candle.
You can buy soy wax and supplies on line. I believe I found most on Amazon.
You may remember by recycled can caddies I made for my office
I really loved this burlap and bee one and thought how cute to make it a candle.
You already know if you are a regular, I really Love my cans
recycled cans that is!!
This sisal wrapped can I am almost tempted to keep.
That is going to be a problem me making these candles,
I will want to keep them all for myself.
This was an olive jar. I painted, waxed and stenciled.
The lid I spray painted with rust-o-leum Lagoon blue.
All the paints I used are the American decor chalky-paint line.
LOVE them!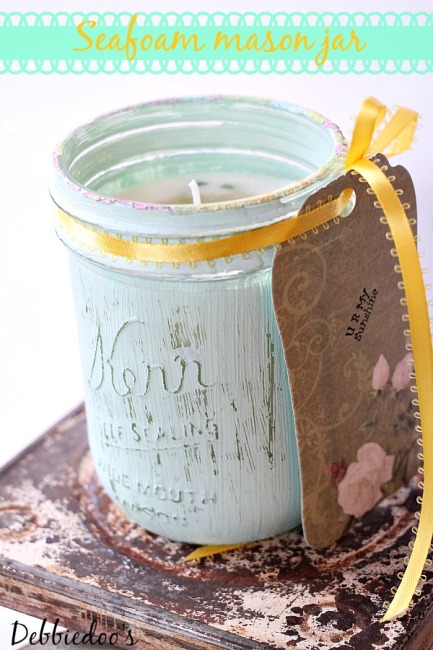 See what I mean, they are too cute not to want to keep for yourself.
Thanks for stopping over today!
Hope you enjoyed my recycled jar and tin can candle crafts.
As I mentioned earlier. These are really simple to make your self.