Hi there everyone!
Today, I am simply sharing my boys.
Or I should say, "our" boys.
Mike seems to correct me often on that slip of the tongue.
Alexander John
and
Jack Michael
I don't talk about them much here on my blog.
Mostly, because I have to now get their approval.
Alex is 16
Jack is 12.
Both sensitive ages and because we live in a small community
everyone, I mean everyone, knows your name.
It's like a Cheers episode on a daily basis here.
We truly love where we live, and my boys have mentioned time and time again
we chose a good place to raise them.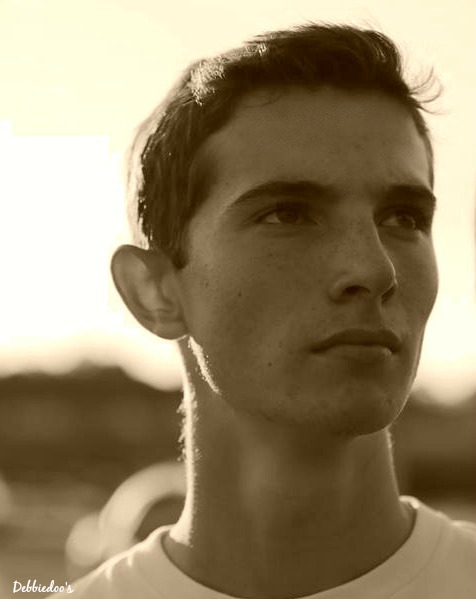 Alex, you can see is strikingly handsome.
I don't say that because he is our son, or mine, believe me, the boy grew into his looks.
I guess there was a time when he got older I said, well, you certainly weren't always the cutest.
I don't remember saying that at all, but apparently I did, Jack vouched for him.
I highly doubt I scarred the boy!
Brothers!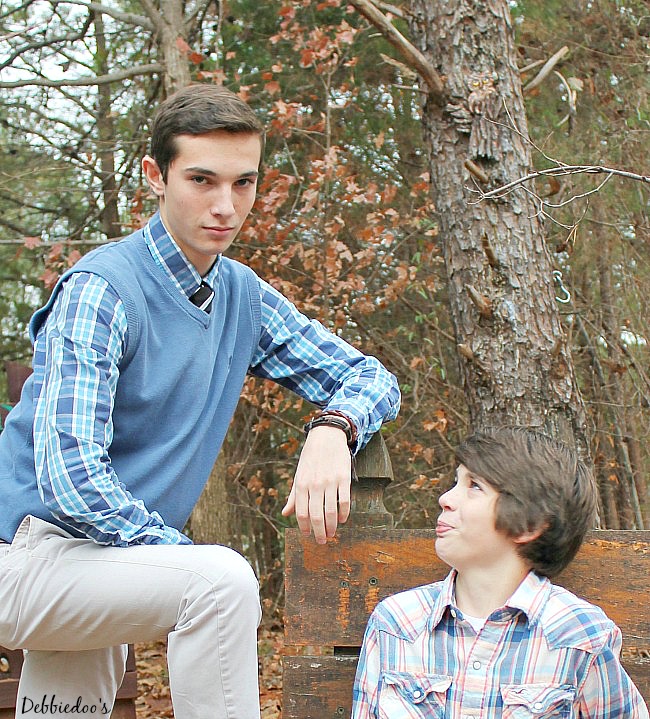 I would say probably because when Alex was transitioning from boy to man, ya know, awkward, the ears, the pimples, the teeth, just an awkward time.
Alex is such a role model for his younger brother, and Jack truly adores him and looks up to him in every way.
I think Alex, finally accepts it, and understands it.
They do not fight nearly as much as they did when they were younger.
I sorta pride the fact, they have never gotten physical with one another. I mean fist fight, perhaps a slap and run, here and there, but never on the ground rolling around.
That's pretty good for brothers I would say.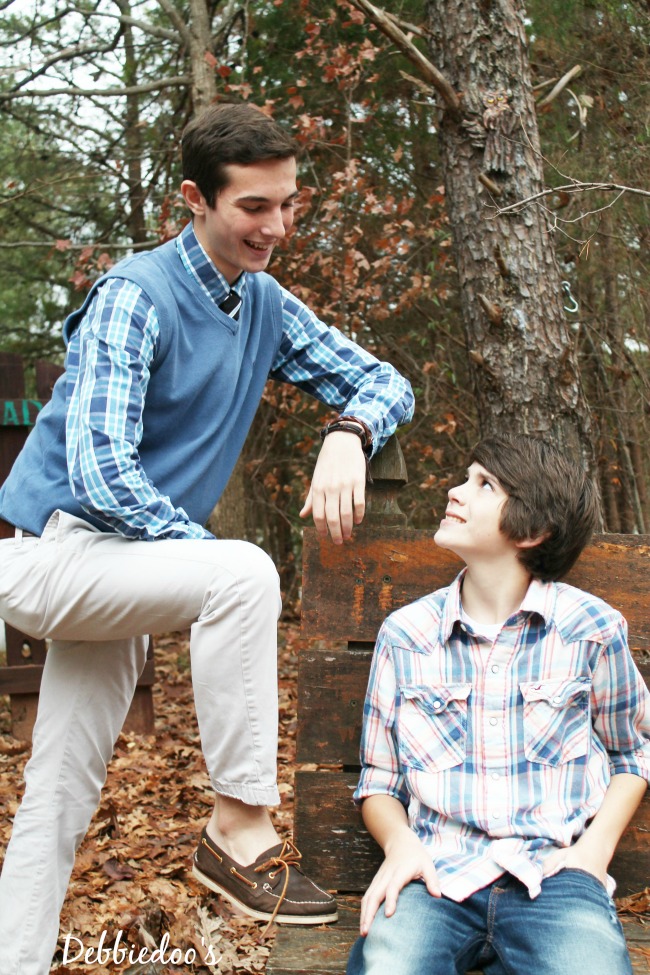 Alex, is bright, compassionate, sensitive, loving, and very much in a sense a young man who beats to his own drum.
He keeps his circles small, because he likes it that way.
Very outgoing, however very much can be an introvert at times.
I get that, and would say, I am very much the same way.
He does not care for conflict and in fact probably does not take it well.
He is very much a communicator, and will want to talk it out, rather than argue it out.
Extremely sensible for his age, knows what he wants and is going for his dream of being a Medical Doctor. He has not figured out a specific field yet.
He is very much set on helping people, making a difference and getting fulfillment out of what he does as an adult.
He in fact has recently, made his own decision to start practicing Catholicism.
We are in fact Catholic, but admittedly, we were not practicing and going to Church every Sunday. We have always told the boys, when they were old enough to truly understand they could make their own decisions on religion and beliefs.
We never felt it was something we should choose for them.
We raised them thus far with high morals, kind and caring hearts.
Alex, now attends Sunday mass, religiously and is going to classes to make his first holy communion and confirmation.
All on his own accord.
I will say, his girlfriend, probably influenced him in some way. Not because she asked him to, but because he found love in his heart for her, and wanted somehow to express his gratitude and grateful heart for it.
Just my thoughts on that.
Let's talk about the Jackster!
Oh Jack, Jack, Jack.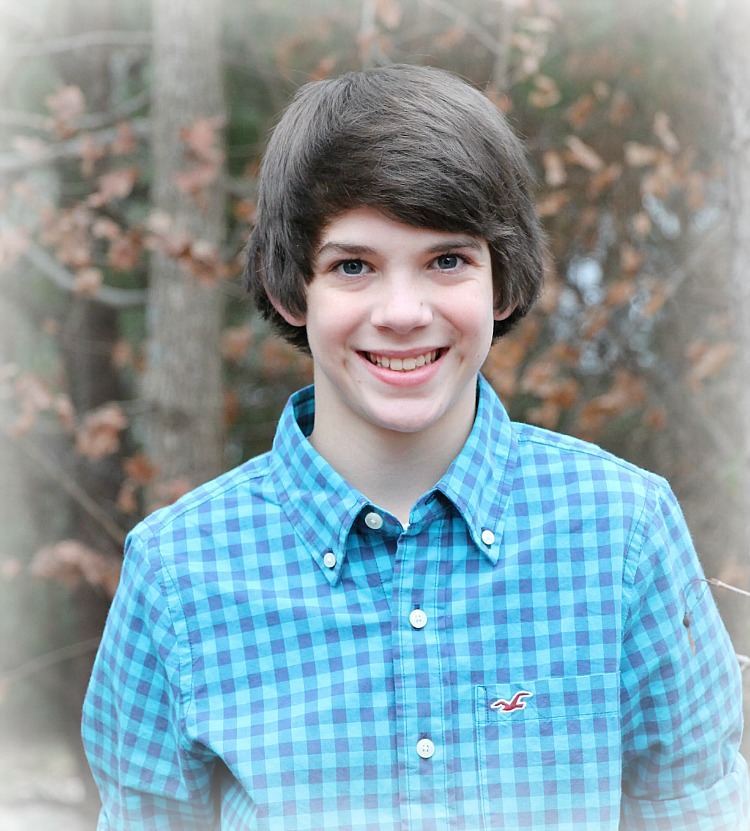 Now that boy is a real pip!
Jack was named after my Grampa Jack, the one who nicknamed me Debbiedoo's.
I believe wholeheartedly my Grandfather, a month after he passed, planted the Jack seed for us.
Considering that is when he was conceived, after we had been trying for the past year.
That to me, was fate.
I would say Jack and I are most alike.
We butt heads, and butt them often.
We never go to bed angry though.
Jack, too, personality wise is extremely compassionate, kind, so loving, and really considerate of others, oh and bright too. Took him a bit for the light bulb to go off, as he struggled early on with reading. Now he is a whip and strives to do well and earns excellent grades. He even checks his own Parent portal online to track his progress.
I am not the Mom who has to check on their grades and track their progress, they do it, all on their own.
To quote a letter once received by the Principal when he was just in Kindergarten
"Jack tries to make sure that other children are treated kindly and fairly. Not only does he have the courage to point out situations where someone wasn't treated nicely, he is able to articulate why and how it could be made better"
I obviously saved that letter and will always cherish that the principal took the time to write that to me.
He is now in 7th grade and I have had many Moms, and teachers, tell me what a great kid he is, he is their favorite.
Of course, one Mom questioned if he was really Eddie Haskel
LOL!
Well, no he is not, but I can tell you, he is one stubborn, know it all kind of kid sometimes at home!
He knows to "hide that crazy" at home!
I got that quote from a friend by the way, I love it!
Jack's dreams go back and forth, he is just not sure what he wants yet. Nor should he know, he is too young.
He knows what he does not want, and that is to be a firefighter, or police officer, anything basically risking his life.
He does love that we have them, need them, and how important those jobs truly are. Has the utmost respect.
The boy wants to make A LOT of money, that I do know, and I think he wants to be famous too!
he best start working on that one!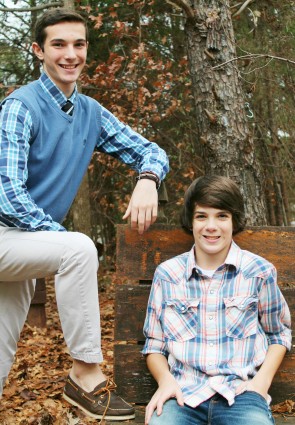 He sure is one cute kid though! He hasn't gotten to his ugly awkward stage YET!
he just may bypass it, not sure, I will let you know though.
His hair, well, he likes it longer, I prefer shorter, but he has a thing about it.
His eyes are the bluest of blue, and the lashes I want to steal.
I dread when the girls start a calling, because I have a feeling it will be sooner than I want.
If you think this was a bragging post, no quite the contrary.
Well it sorta is, just I am really proud of them post.
In fact, when I asked the boys if it was OK to write about them on my blog, they asked why? and what was I going to say?
ya know, I got some stuff on them!
You see, they have some not so redeeming qualities as well, but that is not what I am sharing today, wink wink!
Believe me, we are not a perfect family, and I do not have perfect children, even though Jack was shocked I said he was not so perfect.
This is simply a grateful post for having these two boys in my life.
For God, choosing me to be their Mother, for our family, for Mike, my husband, their father.
Truly a blessing, I want to simply share and express.
After all, this is a blog, and years from now, I can reflect.
They have in turn made me a better person, and taught me things I may have never felt or experienced.
I know my husband feels the same way.
Oh and they add diversity too. Alex is the band and Music guy, and Jack sports all the way.
However, Jack is pretty darn good in band as well, and I would not be surprised if he follows in his brothers footsteps in High School.
I do see him having both in his life, music, and sports.
So when Alex is off to College next year, Jack will keep us flying from here to there and everywhere.
Did I mention, he is in no way an introvert?
Although, content when alone he keeps occupied, he would much rather be around people when he can.
We do differ in that sense. Alex and I are more similar in that way.
XO
Thank for stopping by today and allowing me to share a piece of my heart,
well a whole lot more than a piece, I would say, just about all of my heart.
Follow me around if you like!