Happy New Year everyone.
Today, kicks off our first Newbie with a twist party for the year.
Second year anniversary for this grand party.
It has been my pleasure getting to know you all and to be inspired each week by your talents.
truly
it
is.
So let's get right to it shall we.
First a few reminders
January 17th will be our Valentine's Dollar tree decor party.
Immediately  following that party
will be
my Magazine copy cat challenge on January 28th.
There will
be
NO
NEWBIE
Party that week, and the magazine copy cat party will be in place of that.
If your new here, go on up and check out my copy cat collection to see what it is all about.
Let's get this party started!
 Don't forget, to mix and mingle and make some new friends.
that is why you are here!
Mix with the Newbie graduates too…they are super people that not too long ago
doing the very same that you are today, which is looking for new blogging friends and connections.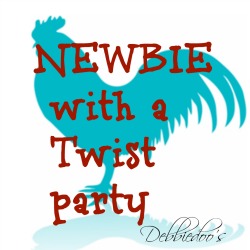 TWO places to link up so pay mind to what you are doing:)
Please be sure to add my link or button to your post.
I plan on shouting and sharing on Facebook, and then doing a big feature post each week.

I also pin a few while I am at it…so follow me along there if you wish.

Please add my link or button. If I don't see it, I can't feature you.  Thanks:)
NEWBIES blogging 6 months or less and/or less than 100 followers.
NEWBIE GRADUATES and/or crafters and diy projects.  ALL are welcome!
If you missed my featured from last week, they were a fantastic round up of 2012 DIY projects