Ooooooohhh that smell…can you smell that smell?
The smell that surrounds you….
WE LOVE Indian food.
It is one of those ethnic foods I believe either you really love it, or you just don't.
In fact, I worked for an Indian female Oncologist for many years.
 She would have just the few of us who worked for her over for a gathering each year.
At the time, because I was so young, I don't believe I had an appreciation for the aroma's and every fine spice and taste there are in Indian foods.
I certainly  do now!
So recently, when I was afforded the opportunity to participate in the Life of PI campaign, not only was I excited but so was my husband.
Have you heard about the Life of Pi movie, or perhaps even seen it yet?
Life of Pi is the story of an Indian boy named Pi, a zookeeper's son, who survives a
disaster at sea and is thrown into an epic journey. While adrift in the middle of the Pacific Ocean, he forms an amazing and unexpected connection with another a
fearsome Bengal tiger. The movie is in theaters NOW.
You can watch the trailer for Life of Pi here: http://www.lifeofpimovie.com/#!/watch-trailer
We all know World Market is a great place for global inspired home decor and gourmet food and beverages. Their passion to discover extraordinary finds from all over the world and make them more accessible to all, also makes them the perfect partner to promote the inspiring film Life of Pi. This holiday season World Market is helping to promoting the Life of Pi Movie with in-store promotions, giveaways and an awesome Sweepstakes!
On behalf of World Market and the Life Of PI campaign,
my husband and I enjoyed creating a wonderful Indian dish.  We also, enjoyed our trip to World Market to purchase the spices and some fun table top decor as well.
World Market is truly one of my favorite places to shop.
We are fortunate enough to have a World Market close by….
With so many choices.
My husband however, knew exactly what he needed, as he was the  master chef on this one.
We picked up from World Market the
Curry Masala
 Ground cumin
Ground cinnamon
Turmeric
Coriander
and some curry seasoning.
All of which could be found in the spice aisle.
Everything was freshly prepared…
and the house smelled wonderful in the process.
That is a fresh parsnip btw…my husband loves those things.
I have to say, my husband is pretty neat in the kitchen when he cooks…
very little clean up for me to do when he is done.
The table top decor, plates, runner, napkins all came from World Market.
They truly have the most unique color schemes and a large selection to choose from.
The  meal was packed with flavor, color and an aroma that totally stimulates your senses.
My hubby done good!
The name of the dish he prepared was Durban.
World Market is sponsoring a fantastic opportunity and this
is perhaps a trip of a life time opportunity.
The Life of Pi Sweepstakes
Grand Prize package includes: a dream trip for 2 to India and a $1,000 World Market Gift card. There will also be 3 runner up prize winners that will each receive a $500 World Market gift card!
The Life of Pi Sweepstakes runs from 11/17 – 12/28.
If you share the sweepstakes with 5 of your friends (via FB share or email) you can receive 5 additional bonus entries. This is part of the registration process when entering. Users can also enter daily for more chances to win.
If you share the sweepstakes with 5 of your friends (via FB share or email) you can receive 5 additional bonus entries. This is part of the registration process when entering. Users can also enter daily for more chances to win.
"This shop is part of a social shopper marketing insight campaign with Pollinate Media Group™, but all my opinions are my own. http://cmp.ly/3/KqtZiE."
Thank you for stopping by today and enjoying a little taste of India.
Don't forget to enter the sweepstakes above!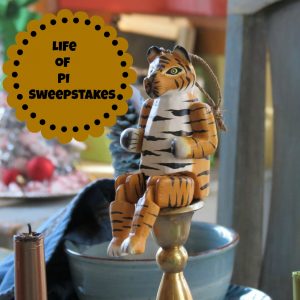 Recipe for Durban curry with some ingredients improvised or added.  For example, we used beef instead of Chicken,
and my husband added the parsnips and carrots.
2 cups basmati rice
For the chicken curry
2 tbsp oil
1 large onion, sliced into rings
1 sprig curry leaves
2 garlic cloves, finely chopped
1 tsp finely grated fresh ginger root
3 tsp curry masala
1 tsp ground cumin
1 tsp ground coriander
1 tsp ground cinnamon
1/2 tsp ground turmeric
1kg skinless chicken breasts cut into strips
3 small Chillies finely chopped (or left whole if you prefer it mild, you fish them out at the end of cooking time)
2 medium tomatoes
200ml chicken stock
1 tsp tomato purée
4-5 medium potatoes, peeled and diced
fresh coriander leaves, to serve
For the tomato and mint sambal (Indian salad)
2 ripe firm tomatoes, diced – or 2 carrots grated
2 tsp mint sauce or mint jelly
1 green chilli, finely diced
2 tsp red wine vinegar
pinch sugar
How to make it
---
Make the tomato and mint sambal first: mix all the ingredients together, cover and leave to chill for an hour before serving.
For the chicken curry: heat the oil in a frying pan and cook the onion and curry leaves until the onion is soft and golden brown. Stir in the garlic, ginger and spices and cook for a couple of minutes over a low heat.
Increase the temperature and add the chicken and chillies, stirring well for a few minutes.
Add the tomatoes, half the stock and cook for about 10 minutes before adding the tomato purée.
Add the potatoes and the remaining stock; cover and simmer for a further 20 minutes.
Remove the chillies and curry leaves, adjust the seasoning if necessary and sprinkle with the coriander before serving.
Serve on a bed of rice with the tomato and mint sambal.