Good day everyone!
Today I want to share some features from the Newbie with a twist party.
So many Fall Mantels to be shared,
I thought I would share some Fall mantel decorating ideas from the party. Better known as a round up.
First
Jane from the Cottage on the crossroads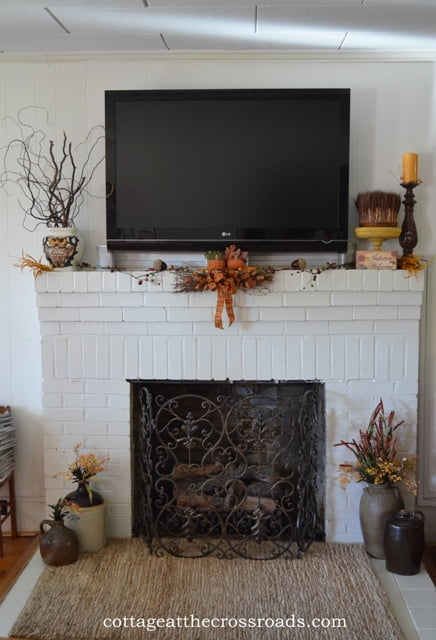 Shirley from Housepatality designs 's Fall/Harvest custom made sign is the perfect addition.
SWOON this one for sure.
Diane from Design till it shines made the cutest Autumn banner for her mantel.
Shari from Turnstyle vogue wowed me with her Rustic Football mantel…
so cool!
Holly from Down to Earth Style has a Style like no other.
She really rocks it.
Martina from Northern Nesting, went simple. Her simplicity makes quite the statement for the season.
Love it Martina!
Must love Junk, never disappoints.
She really has a unique style too.
Love the layering look here.
Atta girl's mantel was super!
Rustic, chippy elegance!
and just in case you missed my Fall Mantel from last week.
It will be different after today.
I am working on my Halloween Mantel.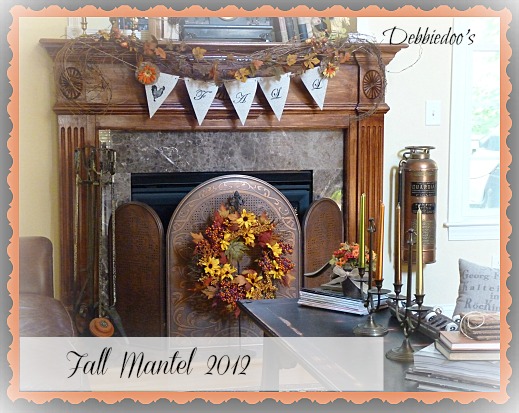 Shannon also shared her Cute Fall mantel, along with her painted glass project.
Easy, peasy and look at what a statement they make.
as she likes to call it
Simple, Natural Fall Fireplace. Mantel & Hearth Decor.
There are many more Fall decor, crafts, vignettes, and mantels that you may check out from my Newbie party with a twist…
All Fantastic and creative ideas.was fantastic to see.
And a cute throw in for good measure is Carlene from Organized clutter...
her pumpkin just tickled me.
Thanks for stopping over today. If you are not a regular, I sure would love to see you back again.
You can find me on Facebook and Pinterest in the meantime!