Great Newbie party this week!
These are just a few of the posts that caught my eye.  I am still lurking through the links…but these ones so far are ones I have visited.
First up…Meet Sharla from The House at Bluebird
Don't you just love this Jelly Cupboard…..
You must see the Before…this is a fantastic makeover. Nice job Sharla!
Next…
Little Miss Maggie shares her very charming front outdoor gardens….
Love…..
Decorate with a little bit..shares and amazing room transformation…
It is so happy and cheerful now.
Last feature of the day is from Real Southern Living
The shelving was a fantastic idea.
Thanks so much for joining me each week.
FYI….starting very soon, I am tag teaming with the ladies of
Random thoughts from an incoherent mind
and Kristin from Simplyklassic.
We will be choosing a Blog a week from the NEWBIE party,
to spotlight.  You will be the Star!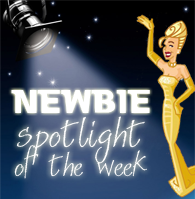 Don't you just LOVE the button?  thanks Kristin!
Kristin can help you with all your blog design needs.  She is awesome!
FEEL free to grab my crowed about you button from my side bar.  You have something to crow about!