The big day has arrived for the Reveal of our DIY Outdoor Pizza oven!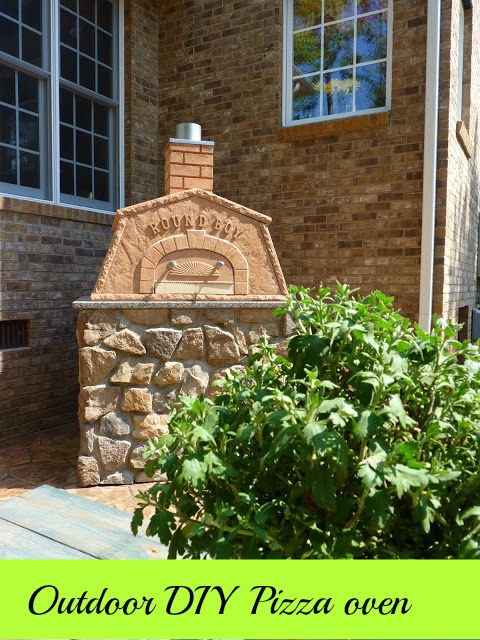 I know a lot of you girls and fellows,
have long awaited for this day!
When all was said and done, we DID it!
So far here what you see was the easy part. These are basic cinder blocks stacked on one another. I know Mike used some sort of special glue to keep them in place. This was labor intense for my husband, but you can see he is a big strong Man. So far piece of cake.
The cinder blocks were purchased from Lowes home improvement
My husband drew out the original plan and size accordingly.
First major mis hap: our first pizza oven being delivered in a thousand pieces.
Not sure why the freight company even bothered as it was an open pallet and clearly not in tact.
SECOND one, perfect…different freight company!
The round boy was purchased on line
at Round boy.com
they specialize in the ovens.
NOW….at this point
we are starting to get somewhere…..
That night we had to start a fire….
OK it works….that was a good sign:)
None of this process was an easy feat…however, with lots of determination, and drive you too can accomplish it. Mike shopped on line for the best prices and he drove hours away to get the stuff. It saved us a ton of money, so that was worth it.
The first piece of Granite we chose, was a different color, more earth tones. Turned out to have a crack in it…Ok just give us what you got!
OK that is resolved, now ONTO the stone work…
This is the MOST difficult part!
Unless you are a skilled mason, you really have NO clue how to work with Mortar.
After a few hours of trial and error, we called 911, no no, I mean we called my cousin who happens to be a skilled Mason. Rob lives in Rochester, and we so wished he lived here. If you ever need masonry work and you live in Rochester or near, I will give you his number.
What he told us is the consistency of the mortar needed to be like pancake batter.
The directions on those bags, does not tell you that, and the amount of water you are suppose to use,
does not equate either.
WE DID IT!~
I say WE, because I did a lot of this work that you see. I buttered the bricks and adhered them to the base, lots of sweat this day…
This oven is now going on two years old and we use it often!
You can cook meat, and breads in here as well. Not only pizza.
It has made for a wonderful addition to our back yard.
To say we do not LOVE it, or are not proud, would be a lie and an understatement!
I would also say, we saved thousands of dollars doing it ourselves.
When we first started pricing out pizza ovens, they ranged from
$7,000-$10,000.
WAY out of the ball park for us.
Total cost was approximately $2,800.
And there you have our Outdoor pizza oven story!
So what do you think, making one anytime soon?
Here is the what I used to make my own pizza sauce and canned it so I would always have it on hand.
Today I used these crushed tomatoes, however the first batch I used San Marzano
I added fresh basil, garlic, salt pepper, a few bay leaves, garlic salt, and a pinch of sugar.
I let it cook basically all day.
And there you have it.