Hi there friends!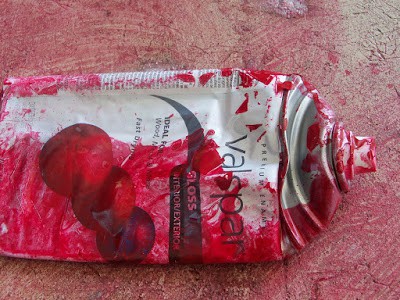 Let me tell you about the latest happenings around here and then we can move on…I had a major mess up AGAIN this week. It was bound to happen with my spray paint can, let me explain.
I was doing a project in the garage and I had left the
project
and the
can
of
RED
spray paint on the floor, Well that night Mike came home and pulled into the garage (he had my truck, because his car was in for repairs…again because of ME!) as you know I screwed up last week on that as well ) well Mike ran over the can of spray paint.
OMG
! is really all I can say, our garage looked like Friday the 13th
massacre.
I had already starting cleaning it up, and then Mike kicked me out fast, and said he would take care of it. After hours of paint thinner and pressure washing it is pretty well gone now.
BAD I tell ya.
The bottom line is, I am doing too much, too fast,
not thinking
and making bad choices that result in accidents.
After receiving the email from my blogging friend, the light bulb went off and it then prompted me to post the topic. I have come up with a simple solution.
STOP
posting so much! Some have asked what are my intentions, ie….do I want a business….
NO…Maybe, perhaps

.
..do I want advertisers…
.
NO, but Kinda sorta
…
what do I want?
I want
to share all my creative energy, my family, my life and my stories along the way. The problem with me, is that I want to do it all,
too much
, too fast. I am a
NOW
, live in the moment, for the moment kinda gal. I can't help myself sometimes, I get so excited making others smile and find joy in just about everything I do, and I want to share that enthusiasm with the World. I have a lot to share, as my life is so
not
boring, and so fulfilled, I like to bring that to you all.
THAT's
it!!~Whatever else comes my way I will embrace. Now If I get discovered in the meantime…..that would be greatttttttttttttttttttttttttt!!~ (just kidding) With all this being said, I love to visit each and every blog I do…this blogging world is NOT all about me (
darn it, would make it so much easier)
.
You
all have so much to share with me as well, and I have learned through you too….life stories, your creative spark, what makes you happy.
I love to learn about you.
My blog
will never be in the top 10,(
should be, dirty rascals, what are they thinking, fools
) my blog will never be recognized in any magazine,(
so magazine worthy, it is ridiculous they are not pounding on my door
) and I certainly
never
had those expectations. I have simply been
over functioning
at a time when I can't!
I do love feedback etc…my posts are
not
all about decorating, I sometimes need insight on parenting, I want to hear everything I can about your experiences about parenting and learn in the process…we can all learn things from each other. To me blogging and connections are all about having a support group for each other. I love
Blogging and Blabbing
, sounds pretty catchy huh…more on that later! (light bulb moment)
I have to also admit I loved the traffic flow my blog was receiving, it was so much joy to see all the people on my page…..and how does that happen…you post often and people come over. But I have to admit I was getting annoyed myself at seeing myself if that makes sense!
….today is a new day indeed!.
So I have fessed up to my shortcomings, admitted my alter ego
was driven, and I
thank you
all very much! But back to some normalcy for me:) I would like to note, my family was
never
affected in any way shape or form, they are not painted
red
or
blue
or the color
purple
and they still love me and are well taken care of. Now my home, well it can be a little cleaner like it used to be…and that is what I will go back to…I love to clean!
This is a very old post and fun to look back and reflect. A lot has changed since this post and I have indeed found my balance. Funny, how a lot of things I was unsure of, actually became a reality for me. I think once I stepped back, reflected, and regrouped is when it all started to fall in place.